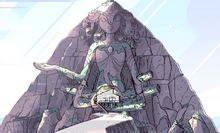 Hey everyone, Iris here, and today we're gonna talk about the purpose of the temple fusion in the story.
Theory
So, we know that the Temple Fusion is the fusion of Ruby, Sapphire, Amethyst, Pearl and Rose Quartz. But what purpose does that fusion have?
First, there is also the fusion we seen in "Historical Friction" and saved William Dewey. Although it doesn't have 8 arms just like the temple fusion, the hair shares a few similarities with the temple one. Also, it's said that Steven and Jamie made the fusion, so it might mean that they didn't do it so accurate.
So tell me what do you think about this theory!
Ad blocker interference detected!
Wikia is a free-to-use site that makes money from advertising. We have a modified experience for viewers using ad blockers

Wikia is not accessible if you've made further modifications. Remove the custom ad blocker rule(s) and the page will load as expected.