Summary
This theory talks about who is the Fusion seen in "Historical Friction ".
Theory
The gem is careful with humans and appeared after the war, so it can't be a Homeworld Gem. Its not a corrupted gem, because it can talk. Rebecca said that the Crystal Gems are interested on humans, so much that the Gem give a high-five to Willian Dewey (probably Pearl put that in the script, since the only thing she didn't understand was the poster at the end), then it can only be a Crystal Gem fusion.
We can't know by the shadow who she is, we don't have gem or eyes color, etc. So lets look the similarities and contradictions of all possible fusions.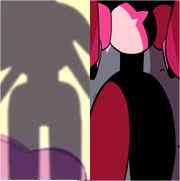 We saw all primary fusion possibilites with Garnet,
Pearl
and
Amethyst
,
so it has to be with Rose Quartz
(Ruby and Sapphire probably wouldn't fuse if they weren't together yet).
"

Holy anchovies! The quadruple noogie! A move that's only been spoken of in legends!

"
—Steven, "Historical Friction"
Notice the fusion have similar chest, waist and legs to Garnet, and all fusions that have Garnet have the same type of body, for example
Sugilite
and
Sardonyx
.
The thing that resembles Rose is the long and big hair, and when with Garnet massive hair turned into that long, big curved hair, kinda like Connie.
Conclusion
The unknown giant woman is the fusion of Garnet and Rose Quartz.