Yo it's me Amethystkitten! I'm here to hand you all a new theory of the previous allegiance of our own Pearl. Let us begin shall we!
Theory
This theory may sound a bit strange at first glance. But ask me why would Pearl have belong to White Diamond, well, let's start with some simple facts.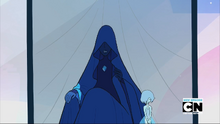 Look at Blue Diamond, now look at her Pearl. Their stones are in the same place. They also both have bluish skin and have hair that gives the same mysterious vibe. Now, take a look at Yellow Diamond and her Pearl as well.
Look at theirs, they are both on their chest both have a very upward and alert hairdo, both have yellowish skin. Now what about our Pearl? In order for this theory to be more valid, let's say Rose is Pink Diamond shall we? Think of Pearl and Rose, they don't share skin colour, or gem placement in the least. But guess what Pearl does have? White skin. Just like White Diamond would and based on the statues in the cloud arena, White Diamond's gem is on her head, just like Pearl's. Even if you don't believe Rose is Pink Diamond, think of the art of Pink Diamond on the moon base. She has big, voluminous hair and a gem on her stomach.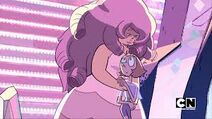 Back to the concept of skin which I mentioned earlier. A gem can not change their skin color nor their gem color, this can only be changed by fusion, though in all essence a fusion is an entirely different being.
Let's go deeper into this theory and think more about Pearl. She tends to feel lost and like she doesn't belong. Many claim this to be a result of Rose's demise but that can't be the only reason why Pearl feels lost, she was made for someone. If she was made for someone, of course she'd feel lost without them, that just makes sense.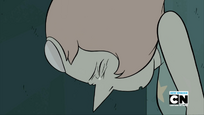 Now think about another point made by Peridot or at least implied by her in "Back to the Barn". She implied that Pearls were custom made for their owners, which explains why Yellow Diamond's Pearl and Blue Diamond's Pearl greatly resemble the diamond they were made for. That would also explain why our Pearl greatly resembles something white, like White Diamond.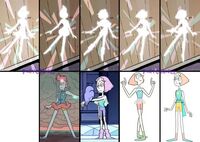 Look at this lovely diagram last, based on the Pearls we've met, we know they are for. As Peridot states "Standing around and holding your stuff for you." And we also know they are quite fancy just as Peridot mentions that Pearl looks like "a fancy one" too. Every regeneration caught on screen is accounted for except the last one, except the fancy one...
Ad blocker interference detected!
Wikia is a free-to-use site that makes money from advertising. We have a modified experience for viewers using ad blockers

Wikia is not accessible if you've made further modifications. Remove the custom ad blocker rule(s) and the page will load as expected.