"Gems" are an extra-terrestrial species of magical beings that play a central role in Steven Universe. Their origin, history, and culture are at this point not well understood, although numerous small hints throughout the series imply the Gems are an interstellar race which at one point maintained several outposts on Earth, but suddenly fled and left many of their artifacts to ruin, with the only Gems remaining on Earth being the Crystal Gems.
Gems 
Pure
Half
Fused
Mixed
Description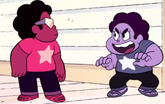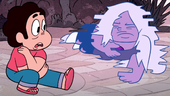 Gems are characterized by the gemstone, which every Gem has embedded somewhere on their body. Each Gem shown thus far is unique (not including Pearl's and Peridot's gem placement), and the gemstone seems to be analogous to the brain or CPU. Gems generally take on the form of feminine humanoids, but appearance varies from Gem to Gem with their colors palettes mirroring the color palettes of their gemstone.
Gems have the ability to customize their physical forms (which appear to be some sort of hard-light construct) at will, with their only constant feature being their gemstone and colour palette. Because of this, all Gems are inherently sexless. While the species lacks sexual dimorphism, they choose to manifest with feminine physical forms, with the only exception thus far being Steven, due to his half human parentage. Gems physical forms mimic all attributes to the human body, including major vital organ systems. However, they do not need to eat or sleep to survive.
Gems have numerous abilities, such as summoning weapons (although this may not be universal, as Lapis Lazuli, Peridot, Ruby, and Sapphire have not yet been observed to have weapons), the ability to fuse, the power to 'store' material in their gemstones (not counting weapons), and the ability to conjure bubbles. All Gems seem to have the ability to harness/transfer energy through their weapons, such as Garnet using her gauntlets to charge Greg's van, Pearl firing an energy blast from the tip of her spear, and Amethyst sending a bursts of energy through her whip. In addition, many Gems have specialized abilities as well, such as Lapis Lazuli's ability to manipulate water, and Pearl's ability to manipulate sand.
Gems are functionally immortal, and cannot die from aging or food poisoning. Although, Gems can still be "killed" if their gemstone is destroyed. When a Gems' physical body is badly injured, they will retreat into their gemstone to regenerate. The regeneration time depends on the individual Gem. Pearl's regeneration lasted two weeks, but Amethyst's have taken mere seconds, although she did suffer physical deformities as a result. It seems that when a gemstone is bubbled, it prevents regeneration from taking place. Furthermore, gems are superhumanly strong and durable. For example, in House Guest, Garnet effortlessly lifts up Greg's van, and in Keep Beach City Weird, Ronaldo hurts his hand when Pearl blocks his punch with her open palm.
If their gemstone is damaged, their body may go through glitch-like deformities. It is also noteworthy that a Gems' gemstones can be used as a power source, even if damaged. Gem Shards function similarly, which appear to be the remnants of a shattered gemstone and, as described by Pearl, were used by other Gems to create "drones" and could grant rudimentary sentience to their containers.
Culture
Reproduction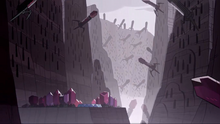 It has been confirmed by Rebecca Sugar that Gems don't naturally reproduce and lack reproductive organs.[2] Storyboard artist Ian Jones-Quartey stated that Rose Quartz shape-shifted a womb to give birth to Steven.
In the short "How are Gems made" It's explained that Gems "aren't born, they're made when some Gems from outer space came to here with these big machines! They put the machines on Earth and shot this junk into the ground, and then boom, you pop right out!". In addition it's revealed that Gems are formed fully developed "being a weak baby would be a pain, so, they suck up all the good stuff from the ground so we pop out all big and strong".
In "On the Run", it is revealed that Gems from the Gem Homeworld used a canyon on Earth, referred to as "Kindergarten," to create new Gems; and that Amethyst was one such Gem. The methods used to accomplish this are as of yet unknown, but it can be deduced that it most likely involved the large bacteriophage-like machines laying Gems in the holes they drill such as the hole which Amethyst claims was "Where I came from." This process is apparently very invasive to the environment and deadly to the point where, if it was allowed to continue, it would lead to "the destruction of all life on Earth", according to Pearl in "Marble Madness". Amethyst refers to all the Gems created through the process, herself included, as "parasites".
While biological reproduction is an alien concept to Gems, it is not impossible for them; while Gems can't reproduce with each-other they can create Gem-hybrid offspring. Using their shape-shifting they can perfectly replicate reproductive organs of organic beings for their "human constructs" in order to reproduce. Rose Quartz so far is the only known Gem to have done this as she did so in order to give birth to her son, Steven. This resulted in her gemstone being passed down onto her son; an action which also caused the destruction of her physical form, "killing" her.
Corrupt Gems
In "Ocean Gem," Pearl and Amethyst explain that "not all Gems are good" and that all of the Gem Monsters that the Crystal Gems fought up until "Mirror Gem" were in fact either corrupted or broken Gems which presumably either cracked their gems like Amethyst did in "An Indirect Kiss" or through some other means were unable to maintain humanoid form and sentience. It is possible that the corrupted Gems infesting Earth used to be followers of Rose Quartz, but eventually lost their way and became corrupted.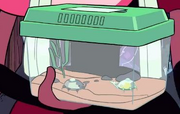 Trivia
References
Ad blocker interference detected!
Wikia is a free-to-use site that makes money from advertising. We have a modified experience for viewers using ad blockers

Wikia is not accessible if you've made further modifications. Remove the custom ad blocker rule(s) and the page will load as expected.